We deliver websites & blogs, social media optimization, logos, functionality and applications, responsive and print.
Whatever the size of your project, iDreamDigital has you covered.

Read on, or check out Our Work.

Every engagement demands a unique approach carefully tailored to the goals of the project.
Through our approach and process we help you do amazing things.

Find out more, or contact us.

Meet Vicci, the virtual customer care agent interacting with shoppers at an upscale shopping mall near you.
Come along with us for a brief case study of her inception.

Meet Vicci, or check out Our Work.


Expert Web Design & Development
On time, on spec, on message and on budget. If you can dream it we can build it.
Whether you require a modest or boutique web presence, or a multi-targeted mobile-friendly flagship web property, we have you covered. We design and develop websites and applications geared towards the specific needs of your organization, audience and overall strategy.
We understand conversions, SEO (search engine optimization) and branding but most importantly we understand the audience, your user. For ten years we've been building our partners and patrons user-friendly websites so that their users are friendly.

Learn more about the importance of hiring professionals for your project, on our Blog.
Brochure Websites
Great news -- you can capture your audience with a professional web presance for less than ever before. Wordpress, social media, Nova One and more provide amazing solutions for even a modest budget.
Boutique Websites
Our expert team of highly talented designers and developers build dream-websites at a fraction of the cost of larger firms.
Check out the difference
then dare to dream of what your website could be!
Solutions from
Premium from
$474999
$674999
Flagship Web Properties
Whether you represent a large commercial entity, non-profit, government agency or otherwise iDD has you covered. We build flagship web properties that engage your patrons and stakeholders, provide robust functionality to effectively simplify your processes and ultimately knock your socks off. Tell us about your needs today!
We would love to hear more from you.
Custom Content Management and Development
CMS, database, scripts, programming, apps and otherwise. On time, on spec, and on budget.
From fully-custom content, customer or database management systems, inventory and payment functions, blog or social media plugins, scripts, web applications, templates or otherwise -- if you can dream it then we can build, test, install and launch it in less time than it takes for some of our well-to-do competitors to cut you a quote.
Responsive Development
Mobile-friendly websites that automatically resize and reconfigure for any screen size.
Mobile is the fastest growing segment of website users today and providing these users with a unique and optimized experience on your website can be the difference between a new customer and a missed opportunity. iDreamDigital can build you a mobile-friendly website that sacrifices nothing and delivers on the experience that your users expect.
Wordpress Design & Development
Search engine optimized out of the box solutions that provide premium functionality at an affordable price.
Wordpress is not just a blog platform. Robust content management, a plethora of open source functionality, search engine optimization and security all make Wordpress a particularly effective Content Management solution for all variety of web properties. We build, install and customize Wordpress templates to suit your needs. Take advantage of one of the most cutting edge and user-friendly tool sets in the world with Wordpress and iDreamdigital.
User Interface Design (UI/GUI)
We can deliver user-friendly, workflow-optimized, screens for your application.
Give your development team the edge over your competitors. Deliver your functionality with premium quality interface design at a price that will leave your stakeholders smiling. You have built a wonderfully functional jeep for your client, now let us style it into a Land Rover or Ferrari with your name on it.

Let's chat about your Development project.
Social Media Design
Engage new customers with unified branding for Facebook, Twitter, etc.
Put your best foot forward on the social web with consistant and professionally rendered branding across all of your social media. Social Media boasts the best ROI on the web so make yours shine. We use your logo and other design collateral to create the ideal avatar/logo/profile picture, backgrounds or custom page for your brand.

Learn more about the value of Social Media on our Blog.
Social Media Branding
Put your best foot forward by unifying you social media branding with a professionally rendered profile image and background for Facebook, Twitter, Linkedin, etc.
Increase Your 'Likes'
Step-up your social media strategy by taming the Facebook beast with a custom landing page. Increase your 'Like' conversions by using the same techniques as CNN, Coke, Nike and others.
SM Brand Management
You know the value, but the fact is that you are too busy to manage a number of social media assets and platforms. Meetup, greetup, tweetup then put your feet up: We've got you covered. iDD creates fully integrated solutions that not only engage a social media audience but further optimize your website for that ever-elusive higher search ranking.
Let's chat about your strategy.
Social Media Development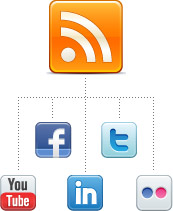 Fully integrated blogs help you engage social media affordably and effectively. Let us help you formulate a winning low-maintenance social media strategy that will also increase search ranking.
Most Brand Mangers have become all-too familier with Social Media: For all it's returns it's time intensive, decentralized, and pain in the butt to manage, right? Well, while that used to be true it doesn't have to be anymore.
We create fully integrated solutions that not only engage your sm audience but further optimize your website for that ever-elusive higher search ranking.

Let's chat about your Social Media strategy.

Learn more about Social Media Automation on our Blog.
Brochures, Cards, Presentations, Reports, etc.
Make a lasting impression with striking, unconventional print collateral and peripherals.
We live in a noisy world. Audibly, visually and conceptually. Cut through all the clamor with striking visuals that leave a lasting impression on your audience. From interesting and captivating brochures and business cards to truly unconventional viral mail-outs or promotional products, iDreamDigital has the idea and follow-through to deliver your audience to you.

Learn more about Unconventional Print and Peripherals on our Blog
Business Cards
Whether you need a timeless and classically clean design or a high-impact visceral concept we create the perfect design to suit you and your brand. Don't leave your first impression to amateurs, we've got you covered.
Starting from
$24999
*Prices are based on our hourly rate.
Brochures
From purely informational to high-impact, sales-oriented print materials -- we have just the fit for you and your organization. We design striking brochures, reports, mail-outs and more for all budget ranges.
Solutions from Premium from
$34999 $98999
*Prices are based on our hourly rate.
Viral Peripherals
The very hottest in promotional materials, carefully thought-out, extremely impactful, visceral concepts are the new high-end of real-world peripherals. If you want to leave your audience in awe of your creativity then there is no better way to do so than with a completely outside-the-box concept. We pride ourselves in designing and developing just that!
Let's chat about your strategy.
Logos, Branding & Standards
Announce yourself in style with a logo fine-tuned to the disposition of your organization.
Whether your brand is you, your business or a corporation, it needs to pop. We offer a number of options starting from $349.99 for a full proof cycle to in-depth brand studies and evaluations resulting in the perfect logo or treatment for even the most discerning. Let us conceptualize then create a logo that speaks to your audience and sector.
Afterwards, we can apply your new logo across a number of mediums and help you to develop and define your branding standards. Consistent branding is the catalyst for marketplace recognition and it all starts with the right logo.

Let's chat about your Print or Logo project.
This is perfect, everyone is going to love it.
Ryan Immegart, Volcom Entertainment
Thank you for all your hard work and attention to detail (as always).
Melanie Clark, LCSS
It looks terrific - thanks so much for your speedy response.
Sara Byrne, GroupHealth Global
Sign Up
For Our
Newsletter
Get exclusive
info and advice.
No spam, Guaranteed.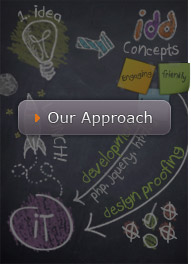 We've Got
a Shiny New
Blog
Get to know a little more about branding, social media, design and development.

An Organic Approach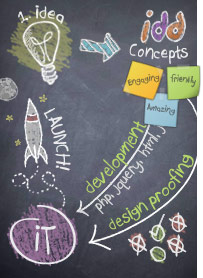 Our approach to your project is the product of more than ten years of working closely with exciting brands, managers, agencies, entertainers and visionaries -- often on incredibly tight deadlines.
Ours is an organic approach. Once we have a comprehensive understanding of the project, expectations and audience we will begin to conceptualize the end product. Years of experience have helped us to cultivate short, focused and well-organized cycles that provide outstanding concepts and deliverables in less time than it takes for some agencies and firms to cut you a quote. Here's a look at the lifecycle of our approach:
Step 1: Project Discovery
We begin by working with you to define the goals, deliverables, functions, and budget for the project. Based on these key factors a development process is outlined. Stakeholders and team members are identified while the expectations, requirements and the timelines are established in detail.
Step 2: Project Kick-off
The scope now carefully defined we are ready to begin the project. We hit the pavement running and sit down internally to discuss how best to deliver on all of the expectations of the project. The creative juices flow.
Step 3: The Creative Process
With particulars defined during discovery, next we will develop a creative strategy designed to effectively and efficiently engage the core and peripheral audiences with intuitive and user-optimized designs.
Wire-framing, multi-design presentations, prototyping or otherwise -- the process will have been tailored to suit the needs of all stakeholders. You will be a part of this process.
Step 4: The Development Process
If a project includes development then that effort has been progressing in parallel with the Creative Process to compliment the timeline. Designers and Developers work closely together to ensure that engaging, intuitive and functional end results have been thoughtfully conceptualized and delivered to the stakeholders and audience.
Step 5: Proofing
When you're happy, we're happy. You've had input through the Creative Process but now you will see the final deliverables. The project is on time and on budget. If, by chance, something comes up that falls outside of the established scope we work with you to define it then pick-up the ball and run with it. Scopes change and requirements grow, goals shift and the planet continues to spin -- we're always flexible!
Step 6: Delivery
The time has come for us to unveil our collaboration to your audience. Once launched we offer standard post-delivery support. We take pride in the quality of every stitch of color and each line of code we've developed. As standards and practices change, we're here for you. As new requirements emerge for your growing audience, we're only an email or phone call away. We've built a relationship over the course of this process and that relationship is very important to us.

Let's Chat About Your Project.

Check out our Porfolio.
Looks great, thank you for stepping up on this tight schedule.
Chris Shimojima, Nike.com
Absolutely wicked. You really hit the mark!
Jon Phillips, Caliplates Recording
Thank You for the great work!
Scott Weller, ERP Nutrition
Sign Up
For Our
Newsletter
Get exclusive
info and advice.
No spam, Guaranteed.
Meet the Vicci avatar!
Vicci is a virtual customer care agent bridging the gap between traditional mouse-and-key interaction and consumer-friendly touch-screen directories.
Come along with us as we briefly revisit the design of the Vicci character who's friendly face now graces the interactive map directories of some of the most profitable malls across Canada, and beyond.
Step 1: Project Discovery
We sat down with the primary stakeholders to hash out the goals for the project.

Getting together with the Visionstate and Synapseworks teams early in development we come to identify our audience and to define the goals and expectations of stakeholders. Next, we pose questions designed to spur creativity and encourage stakeholder engagement: If Vicci were on TV then what show, network or specific personality would she best represent? With answers in hand our team is ready to roll, we establish clear timetables and benchmarks then get down to business.
Step 2: Design & Development
We develop compositions, models and animations to bring Vicci to life.
A collaboration between our design team and the stakeholders produces a carefully tuned personality. The creative process that begun with illustrations and 3D models ends with a suite of meticulously designed animations consisting of expert voice and lip sync, a variety of natural hand gestures and idiosyncrasies that help give Vicci her friendly and engaging personality.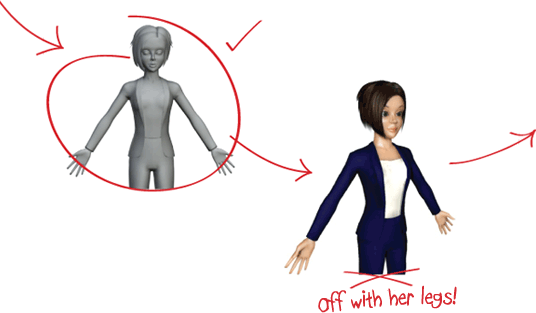 Step 3: Delivery & Deployment
On time, on budget and on spec.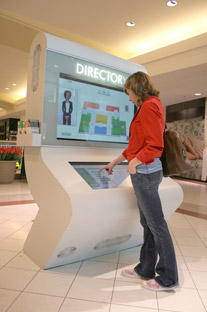 It's Vicci's big day. Video clips are delivered for installation and Vicci makes her first appearance on the public stage in an unveiling in Edmonton, Alberta's, Southgate Shopping Center.
Vicci has gone on to grace the directories of flagship Ivanhoe Cambridge malls across Canada including Edmonton's Millwoods Town Center, Calgary's Cross Iron Mills Mall, Sunridge Mall and Southcenter Shopping Mall, Upper Canada Mall in Newmarket OT, Victoria's Mayfair Mall, Naniamo BC's Woodgroove Mall and Micmac Shopping Center in Halifax.
Vicci has also found her way to the convention floors of Las Vegas, and further.

Let's chat about your project, today!